The Rise of Manhattan Orthopedic Care
from a small orthopedic practice to an esteemed New York brand
Founder
Dr.Armin Tehrany,
one-of the top knee and shoulder specialists in New York
Two Locations
Manhattan and Staten Island
Services & Specialties
Orthopedic Surgery - Shoulder & Knee Specialists, Spine, Ankle, Hip, Neck, Back, Hand Doctors
Patients
Provides customized care plans to a variety of patients, ranging from professional and Olympic athletes to active seniors and school-aged children
Manhattan Orthopedic Care is a leading orthopedic center that provides medical services to people who suffer from various orthopedic conditions. With a fully customized treatment solution and a unique plan of care, using allopathic and non-allopathic methods, Manhattan Orthopedic Care provides a range of orthopedic services.
Who is Dr. Tehrany?
Dr. Armin Tehrany,
one of the top knee and shoulder specialists in New York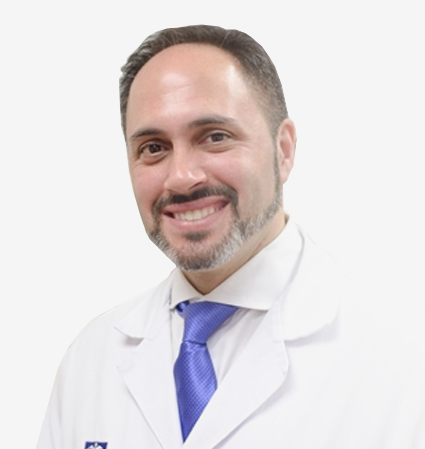 Certifications & Accolades
Board-certified orthopedic surgeon
Sworn in as Honorary NYPD Surgeon
Acknowledged as "New York Best Doctor"
Recognized as "Top Regional Doctor" by Castle Connolly
"Super Doctors Award" and was named "Top Doctor"
Trusted media guest expert, consistently invited to share his knowledge and opinions on a variety of topics
WHAT WE ACHIEVED OVER THE YEARS
952%
increase in website users
464%
increase in website users
71%
increase in patient leads
(year over year)
We partnered with Matteen Advisory & Solutions to create a new website that will match our objectives and will represent us in a professional and high-level manner.
- Dr. Armin Tehrany
IMPROVED THE CONTENT
Articles, patient testimonials, social media posts, PR, videos - you name it, we did it! Based on the data we gathered, we worked on the content from several perspectives:

Answer patient's questions

Provide credibility and trust

Focus on SEO needs
Content created over the years
200+
Patient Testimonials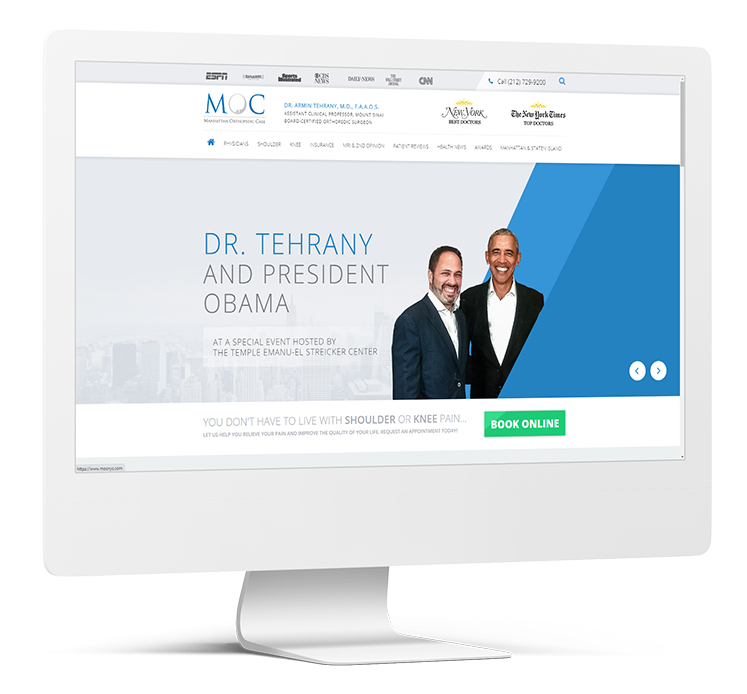 Improved the Brand
Matteen Advisory & Solutions crafted a fully responsive website designed by data-driven UX & UX process with unobtrusive call to actions, great content and the latest technology stack.
600K number of visits
1.2M number of pageviews
50.6% visits from organic traffic
59%

increase in conversion rate(year over year)
What they designed and developed was beyond my expectations. They were super attentive, detail-oriented, careful and unexpectedly creative. Working with this tireless team is a pleasant and organized experience. I'm proud of the long-term relationship that was born during the process!
- Dr. Tehrany
Optimized the patient management process
For Manhattan Orthopedic Care, we built a custom Scheduling Appointment System that allows
smart filtering of patients.
21%
improvement of form abandonment (year over year)
35%
avg. increase in conversion rate (year over year)
40%
referral program growth (year over year)
BUILT THE 24/7 PHONE ANSWERING SERVICE
As the number of website visitors increased, so did office calls from people looking for answers or trying to book an appointment. The number of missed calls after work hours was skyrocketing. There was an urgent need for a solution that will take care of people calling outside of office hours.
And what the results were, you ask?
0 missed calls since the implementation
2X increase in new patients (year over year)
3K+ avg. minutes answered per month
2X increased number of appointments
SEARCH ENGINE OPTIMIZATION
To receive the necessary exposure of the brand and traffic through search engines, Matteen Advisory & Solutions ensured that MOC's website satisfies all technical, on-site and off-site factors. From improvement of the page speed to content writing, Matteen Advisory & Solutions helped MOC rank within the first position for some very advantageous keywords.
Here is what our SEO efforts resulted in:
50% of all web traffic is organic
7M+ annual impressions from search rankings
132K+ annual search web clicks
1.7% annual click-through rate in rankings
SOCIAL MEDIA MARKETING & CONSULTING
The rise of social media presented a new opportunity for Manhattan Orthopedic Care to get closer to many generations of people with orthopedic problems. The challenging moment was how to make orthopedic services and surgical treatments seem less horrifying and assure patients that MOC helps them through the entire process.
We created over 1500 social media posts and managed 5+ social profiles.
62% increase in social conversions
6K+ total number of conversions from social
100% increase in brand awareness
DIGITAL MEDIA BUY & PPC MARKETING
In order to promote Dr. Tehrany and Manhattan Orthopedic Care to a wider audience with specific knee and shoulder problems, and at the same time increase conversions, Matteen Advisory & Solutions used Google Adwords, GDN and other paid digital media channels to bring new visitors. In order to assure that every dollar spent has a proper ROI, we deployed metrics and conversion tracking throughout the entire patient journey.
+$1M Google Ads spend
12K highly targeted conversions
70% avg. 5-yr annual growth in conversions
-50% reduced cost per conversion
(year over year)
ONLINE REVIEWS & REPUTATION MANAGEMENT
To properly manage Dr. Tehrany's and MOC's reputation via online channels, Matteen Advisory & Solutions encouraged a strategy that focused on user reviews and sharing patient experiences. To achieve that, we built online reputation management tools and systems that made the interaction with patients much easier and allowed them to rate and review their experience with just a few clicks.
1000+
five-star patient reviews
Five star ratings on:
HOW DID WE ACHIEVE THAT?
Our approach was driven by experience, innovation, data, science, enthusiasm, and sharp ideas. We combined our digital marketing, technology and business consultancy skills to create the best combination of solutions for MOC.
DIGITAL MARKETING
Search Engine Optimization (Technical, On-Site)
Social Media Marketing and Consulting
Email Marketing
Interactive PR Efforts
Paid Media and Media Buy Management
Remarketing & Retargeting
Reputation Management
ANALYTICS & BUSINESS INTELLIGENCE
Website Traffic Analysis
Lead Conversion Metrics
Patient Referral Data
ROI and Conversion Analytics
Advanced Reporting and Data Sampling
WEB DESIGN & DEVELOPMENT
Wireframing Concepts
User Experience Audits and Optimization
Web Design with a focus on the User
Responsive Web Development
Software Development
System administration
On-site Equipment Maintenance
Server Administration
Uptime monitoring
Cyber Security - Firewall, Intrusion Detection
Anti-SPAM and Anti-Malware Measures
Website Speed Monitoring and Optimization
Data Backup and Retention Policies
Penetration Testing
Quality Assurance